2:07 pm
THAT!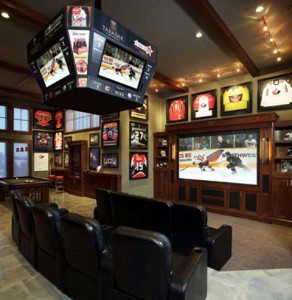 All that man cave needs is well…Me! I know all of you have superior man caves like this and live extravagantly with your mile high memorabilia collection and hangings of jerseys and helmets…
BONK…BONK…BONK…
What's that sound? Your alarm! Wake up man! That fairy tale room was just a dream. Or is it?
No need for tears though. In this blog we'll explore some cost efficient ways to dominate your man cave room space.  Your man cave will be worthy of an elite fan collection at a fraction of the cost. This special man cave blog topic was brought to you by an avid sport-a-holic. If you ever think of a topic you'd love an Optimal Fundraising Blog on, you need only ask.
So first up… I love organized space! If you're like me and you are living out of a spare room that the size of a spam can then organization can be a little tricky. Things just end up where you can cram them and you pray it doesn't all cause an avalanche of baseball bats to greet you the next time you open the door. To remedy my small space dilemma, I utilize wall space top to bottom. This at least helps me to keep the entertainment room as spacious as possible avoiding the use of bulky built-in units. I hang photos, jerseys, bats, helmets and banners in their designated spots. Before beginning to hang items, select a wall color as a background that will complement the displayed items. When making a wall collage, start with the biggest pieces first and then work around them if you are mixing sizes.  Displaying the items together in one area makes much more of an impact than spreading the pieces around. Arrange the items in a meaningful way—for example, by team or by item—so that the collection can be enjoyed to its fullest.  To avoid a cluttered and haphazard look, however, the items should be grouped appropriately and properly displayed. In addition to aesthetic considerations, it is important that pieces be protected to assure their continued value—whether that value is monetary or merely personal. We will discuss ways to protect your collection in a future blog.
Soon we'll be relocating in to a home with a larger, much larger, entertainment room and I cannot wait to have built in display lighting and space for days. Maybe most of my memorabilia collection will fit? For those of you with larger spaces, I have to know, how do you handle it all? Do you hang everything on the walls? Still use built-in units? How about trophies and baseball card storage? Comment or email me at socialmedia@optimalfundraisinggroup.com and let me see your entertainment room! With your permission I'll post it right here on the blog for the rest of us to drool over and learn from! I may even send you a little surprise gift for helping me out!