10:48 am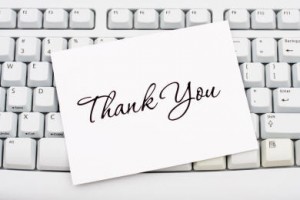 "The deepest craving of human nature is the need to be appreciated."
– William James
Whether your nonprofit organization has one big benefit function a year or does small continuous giving promotions throughout the year, nonprofits ask for donations all year long, but when do nonprofits ever say "Thank You"? Donors don't simply give money. They save lives. They feed the hungry and house the homeless. They educate children. They help cure diseases. Showing constant, authentic appreciation for your donors (new and old) is crucial for retaining supporters.
So how do you say "Thank You" to your donors?
Your donor just donated to your organization through your website or some type of online donation service. And Bing! Almost immediately, they get a thank you email. Is that really a thank you? Yes, automatic generated emails are a necessity to notify people that their payment was successfully processed, but is that automatic generated email the only Thank You that donor will receive?
Your donor submitted a gift to your organization, and in turn received a pre-printed postcard in the mail with only a giving dollar amount as the only thing handwritten in the allotted blank space on the postcard. Seriously?
My favorite type of Thank You is the "Bench Mark Thank You" Donor A donates annually $100, but does not meet the required annual giving total to receive a Thank You. Donor B donated $250 once, and receives a Thank You. Now how about that? Don't get me wrong, $250 deserves a Thank You, but all donors big or small deserve a THANK YOU! You wouldn't have a job or an organization without them! Thank all your donors regardless of gift amount.
The number one reason that donors stop supporting a nonprofit is the way they were treated by the charity. Sure, donors may well give again without a thank-you, but why would you not want to show gratitude to each and every donor?
Old School > New School
The typical thank you note that many donors receive is more like a transaction receipt that their bookkeeper really appreciates, but does the actual donor appreciate it? Donors want something quite simple: a prompt, meaningful thank you letter and additional communication that explains how the donation was used. That's it!  Eighty percent of donors say that would convince them to make the second gift.
The secret of the great thank-you note: if you do it right, the givers are actually happier giving to you than they were before they gave the gift. It's not an obligation to give a gift any more—it's a privilege! Make them excited to give next time! Granted the thank you example I added to this blog did not come from a nonprofit, but this business has previously collaborated with charities!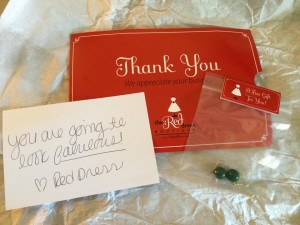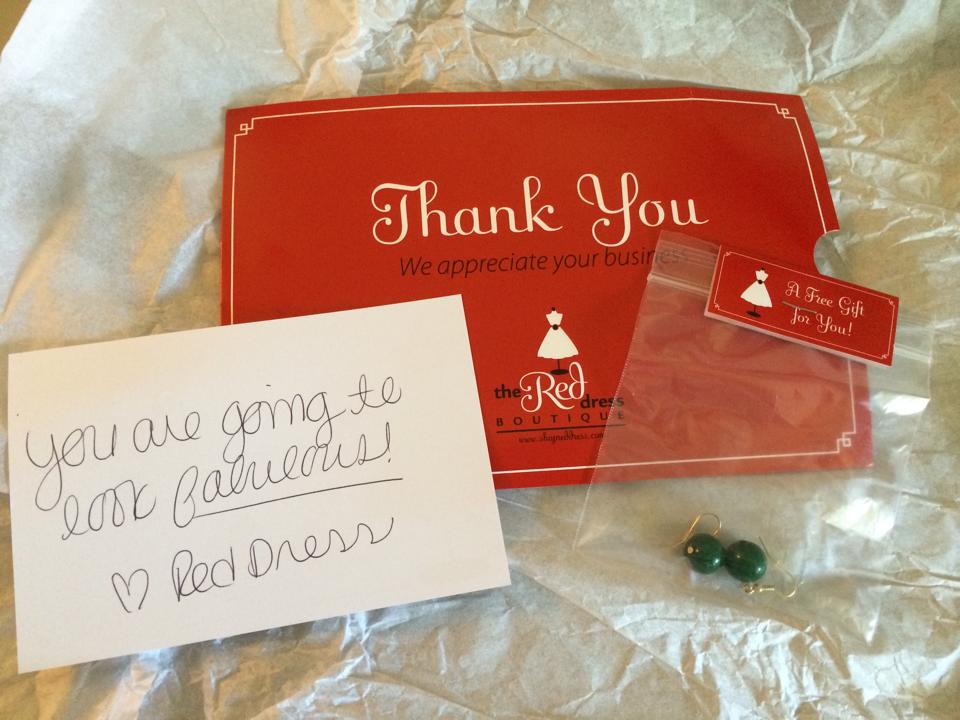 There it is! The most basic Thank You Note, yet it would still make you smile if you personally received that note in your mailbox wouldn't you? I personally shop at Red Dress Boutique (http://www.reddressboutique.com/) for my charity benefit outfits a lot, so it amazed me to see that the owner (Diana Harbour), was actually looking to hire part-time employees to solely dedicate their work day to writing personal handwritten notes! That small gesture makes me want to buy again!
A really great thank-you letter should make your donor feel like they made a difference, they matter, their investment matters. A timely thank-you letter makes a donor think you are competent and pay attention to the details. And if you do that with donors, I'm sure you're doing that in every other area of operation. Neuroscience research shows that when a person thinks one area of the organization works well, the person applies that to the rest of the organization, too.
Thank-you calls may seem outdated and pointless. Yet, research shows that when nonprofits called and said thank you to donors, those donors gave 39% more in their next donation. Studies show that fourteen months later, non-profits who called got 42% more financial assistance than organizations that did not utilize a personal telephone call.  Staying true to the purpose of a non-profit does not go unnoticed. People want to work for a common good with an organization that sees the donor as more important to the cause than a paycheck in the mail.
Need some more ways to improve your donor gratitude plan? Here are some ideas to inspire your charity organization.
Don't stop a one and be done. If a donor gives more than once, thank them more than one time! If a donor increases their gift, show them you noticed and value it! Sixty-five percent of first-time donors don't make a second gift so that makes these donors A-List Superstars, and that statistic means your organization needs to do that much more to win your donors over again and again!
Dedicate social media shout outs to thank and recognize donors.
Your supporters matter, and they want to know it too! So give them little gems of progress that show that with their support—and directly because of that support—you are bringing about some kind of change, or making life easier for someone, or advancing the cause. Maybe it's a short anecdote, or a telling testimonial, or an impressive statistic.
A picture says a 1000 words. Including photos, either in the body of the letter or stuffed in the envelope, will make an instant connection between your donor and your work. A photo of a client or smiling people making a difference out there in the world will light up your donor's day. Get a group of people whom your organization helps together and take a photo of them holding a big banner that says, "Thank You."
Post a Thank You video on your YouTube channel. Send your donors a link to the short video. It doesn't need to be professional studio edited production to show that you appreciate your donors. A simple video saying, "Thank you for helping [whatever project you are currently working on]." It's so genuine, and yet so easy to do!
If you have clients who benefit from programs funded by individual donations, ask a few clients to explain in their own words how your organization has changed their lives and to thank the donor for making it all possible. Nothing says Thank You better than "Puppy Artwork" from a fellow companion you might be donating to!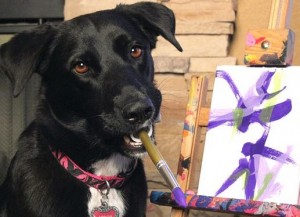 Express your love and thanks to your donors on a non-holiday occasion! Your surprise just because note will surely not go unnoticed!
Start your letters with a more creative and personal opening besides the usual, "On behalf of". Try something like "You made my day" on one line by itself. Then jump into a story: "Your donation crossed my desk today and …" Explain how the money will be used. Or start with, "I have a great story to share with you." Launch right into a success story and then talk about how the donation will create even more happy stories.
Very quickly but clearly describe a specific program where the gift will be used. Give supporters a sense for what you're doing with the money. You can use anecdotes as examples for how the money is being spent, or you can assure donors that their gifts are going to "where the need is greatest."
Donors are your organization's heroes, champions, saviors, rescuers, and protectors! Saying thanks and reminding them of their VIP status should be at the top of your to do list! What are your favorite ways to thank donors? Share your ideas in the comments.